A sample safari itinerary

Arrive at Nairobi International Airport. Our representative will meet and transfer you to your Nairobi Hotel.
Day 1 
A two hour road journey offers a night stop at Mountain Lodge on the forested slopes of Mount Kenya. The lodge overlooks a waterhole and salt-lick, providing a unique opportunity to watch nocturnal wildlife from the comfort of your room.

Day 2, 3 & 4
After an early morning walk in the unspoilt forest and a delicious breakfast, you will depart to Meru National Park. Meru became world famous from the book written by Joy Adamson "Born Free", in which Elsa, the orphan lioness was the main feature. It was to this park where she was returned to the wilds to roam free. After having picnic lunch on the way, we will arrive at the private mobile camp situated on banks of the river, where you will be warmly greeted by our camp staff.

This is one of the most scenically diverse of Kenya's Wildlife Parks with Buffalo, Elephant, Lion, Cheetah, Gerenuk, Giraffe, Zebra, Oryx and lesser Kudu being amongst the many animals in this Park. From camp, we offer early morning and afternoon game drives, with an option of taking a picnic lunch to the Eastern area of the Park to see the Tana River, Kenya's longest and largest river, teeming with Hippo and Crocodile.
Day 5 & 6
Whilst the camp moves on to the next wildlife location, we will be staying in a carefully selected lodge or permanent camp. All are situated in wonderful private wildlife areas with spectacular scenery in which you can take guided walks, horse and camel rides, see chimpanzees in addition to game drives and night drives. These areas are home to the magnificent Reticulated Giraffe, Grevy and Common Zebra, Greater Kudu, Elephant, Buffalo, Rhino, Lion, Cheetah and the shy Leopard.
Day 7 & 8
Moving south into the Great Rift Valley to the fresh water Lake Naivasha and to Lake Nakuru National Park; a shallow alkaline lake that provides sustenance for one to two million lesser flamingos, making the visit one of the greatest bird spectacles on earth. Not to mention Black and White Rhino, Eland, Water Buck, Impala, Gazelle, Rothschild's Giraffe, Buffalo, Lion and Leopard.

Day 9, 10, 11, 12 & 13
 The camp has moved from Meru to the Masai Mara and is set up and made ready by our camp staff. The Mara is Africa's finest wildlife area, being the northern extension of the great Serengeti National Park in neighbouring Tanzania. Not only is it unrivalled as a predators paradise but also during the dry season  (July to September) it plays host to the largest land migration on earth, with approximately 1.5 million Wildebeest and over 250,000 zebra wandering back and forth across the Mara River. Wooded grasslands, riverine forest, open plains and the beautiful Oloololo Escarpment provide an ideal habitat for large herds of Buffalo, Topi, Coke's Hartebeest, Impala, Elephant, Gazelles, Cheetah, Giraffe, Water Buck, Baboon, Vervet Monkeys and plently of bird life, which can be seen in all seasons.
This is also home to the Masai Tribe, East Africa's most famous people, who have lived in harmony with the wild creatures for hundreds of years. In former times Masai warriors adorned in lion mane bonnets were revered for their prowess in battle, armed only with their courage, a shield of buffalo hide and razor sharp spears.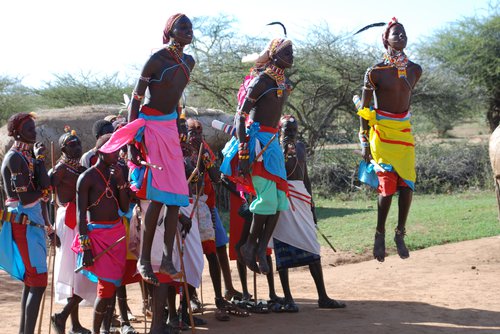 During your visit, alongside game drives, you will have an opportunity to float across the plains in a hot-air balloon, an experience never to be forgotten. You can picnic among the great herds or relax within view of Crocodiles and Hippo down by the river, or enjoy the chance to catch a huge Nile Perch on a mornings fishing trip to Lake Victoria, the second largest fresh water lake in the world.
Day 14
After a leisurely breakfast in camp, you will catch the morning scheduled flight from the Masai Mara to Nairobi. After lunch at one of our favourite Nairobi restaurants, there will be time for some last minute shopping or perhaps a rest at a hotel day room to prepare for your departure home.
Extra Activities available on request
Balloon Safaris, Nile Perch & Trout Fishing, Horse and Camel rides, Mountain climbs, Indian Ocean Deep Sea Fishing.